How to Stage Your Home For Sale in the Richmond Condo Market
There are a lot of articles on the web about how to get your home ready to sell. Decluttering, repairs and minor upgrades are obvious points in any scenario. But when it comes to decor, layout and aesthetics, things get specific. Technique starts to matter. Did you know that buyer demographics, and the location of your home, determine the type of home staging you should do?

I'm a Richmond real estate agent. So, I'm specifically going to explain how to stage your home for sale in the Richmond housing market. Doing it properly can attract the right buyer, for the right price, at the right time. Here are a few of my best tips and tricks for Richmond, B.C. home sellers: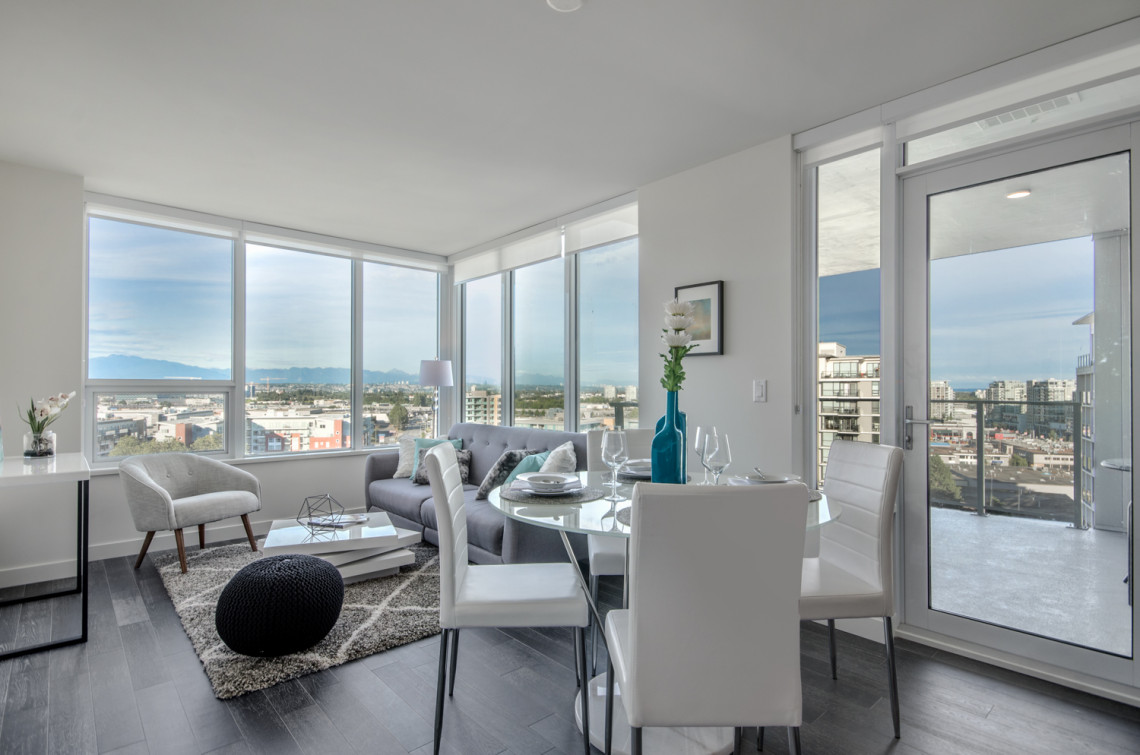 For Richmond condos under $600K, appeal to young, first-time home buyers looking for a modern aesthetic
First-time home buyers are usually young, and often single. They are at the start of their careers. They're learning how to 'adult.' Their style is usually modern. That's probably because their parents still have the 'big comfy couch' with velour, floral designs. Or you know, the 'poofy' leather recliner from The Brick. So to them, that look is dated. This crowd is Pinteresting, shopping at Homesense and IKEA, and reading Apartment Therapy blogs. That is, they like trendy designs. They can't wait to express themselves with their OWN space, finally.

The lifestyle of the crowd that's buying under $600K condos in Richmond will involve friends coming over. They'll want to see themselves entertaining, and 'showing off' their new pad. Also, this is the generation that grew up with technology and loves the planet. So your home should reflect these personality traits.

If someone can walk into your apartment, and imagine their new independence with hip, staged look, you may just appeal to the buyer who will most likely purchase your home.

So, to stage your home for Richmond condos under $600K, follow these guidelines:
Remove those floral 'tea party' curtains, wallpaper and light fixtures. Replace them with sleek, smooth and solid colours. Brown, '80s red and dark yellow don't count!

Brighten up your walls with a fresh coat of white, or light grey paint.

If you have old tiles that involve any kind of pastel (especially pink), or flowers, they've got to go. You don't get a pass for mouldy caulking either.

Bring in some home accents with a modern twist. But keep them cohesively themed - don't just add random things you think are nice (it will look messy that way). Stick to the same colour palette, and the same style of artwork - whether wall hangings or knick knacks. A splash of colour here and there is ok for this crowd - but only as an accent. Think: Scandinavian design.

Set your table with matching, modern tableware. Go with eco-friendly wood slabs, LED candles, copper and marble textures, all-white plates, or solid accent colours. A bar cart to the side of the table wouldn't hurt either.

If you're a plant hoarder, it's time to say goodbye to your needy 'friends.' Keep some, but scatter them throughout the house as accents. Do NOT keep them collected in a corner on your balcony. Or anywhere, for that matter.

Replace the sink faucets with modern ones. These don't have to be expensive - just not from the 90s.

In the bedroom, use all-white bedding. Add some modern, white accent pillows.

Declutter - always. Remove your family photos, religious ornaments, and fridge magnets.

In short: while this crowd has probably been out of their parents' homes for a while, they are entering a new phase in their 'grown up' life. They need to imagine the possibilities of being in charge of their own 'domain.' Don't use old, or bold designs. Keep it neutral, and leave the rest up to them. They want a blank canvas they can finally 'paint' the way they've always wanted to.
Stage Richmond condos between $600 - $800K for warmth, not modernity

Staging Richmond condos between $600 - $800K is likely going to involve two bedrooms. The audience that buys this type of condo is split into two groups:
Young couples. While they are still 'young,' they're also a bit more mature than the first-time home buyers. They are likely looking to settle down. They are at the height of their careers, and need a cozy place to come home to at the end of the day. They might even want to start a family in the next little while. Or, they could be single parents with a child that comes over part of the week.
Retired couples. These real estate condo buyers are downsizing, and looking for a place they can age in, easily. They want one-level home that is senior-friendly. They'll need a spare bedroom for when grandkids or guests come over. And over time, they'll want a place that can be adapted for any accessibility needs, such as shower rail bars. In-suite laundry is a must, since mobility will eventually be difficult.

As the home seller, you'll want to take into account that young couples don't want to see your old, unmatched, used furniture. But they do want to see some warmth. They have a bit more money than the first-time home buyers. So, they don't want to skimp on quality. But, they also need to see opportunity for compromise and versatility in their new living space.

The retirees, on the other hand, need to be appeased by seeing that their existing furniture can fit in the space. They probably don't want a lot of change from their existing environment. They may have a lot of sentimental pieces that will stick with them for the move. However, it's possible the older couples will plan on getting some new furniture, since the stuff they have is probably worn out anyway. So you can show some flair when home staging for this crowd. But, like the young couples, you don't want to go too modern. The retirees still want a cozy, traditional and 'homey' feeling in their space.

To stage your home for Richmond condos between $600 - $800K, follow these guidelines:
If you can afford it, upgrade the appliances - it can be a huge selling point.

If you can really afford it, renovate. The bathroom and kitchen are most important. These can even be 'refaced,' if not completely gutted (i.e. just replacing the doors and fixtures, or painting them). Hard flooring, inplace of carpet, is also recommended. Otherwise, be sure to shampoo the carpet, at least.

Any renovations should take into account accessibility features. Floors that don't scuff from wheelchairs or walkers, for example. Or, lower-placed light switches on the wall. Support rails in the bathroom are handy too. And the kitchen should have easy-to-reach pull-out drawers.

Remove any gaudy light fixtures. Modern, clean and simple ones are ok.

If you have a fireplace, deck it out. Make sure it's not acting as your temporary storage spot for exercise weights or magazines. Put some fresh wood and fire tools nearby. Replace mantle photos with modern knick-knacks.

If you have a balcony, try setting up a small patio set. Add a few, aromatic herb planters. Remove everything else.

If you've got a condo with a view, see if you can get a telescope or binoculars to put near the balcony. Might be a fun thing for them to see how far the scenery goes.

Take out all the bulky furniture. These couples have their own stuff. If the rooms look too small, they may get discouraged.

Clear out the closets as much as possible, and invest in closet organizers. Remember, they have their own stuff, and they need to see where it's going to fit!

In the master bedroom, use warm and matching colours for bedding. Or, go all white - it's always a safe bet.

The second bedroom or den is important. This is going to be the home buyer's versatile, flexible space. It can be a home office and guest room today. But it needs to transform to a nursery or kid's room later. If possible, set it up with a desk and single-size bed (or futon), for now.

In addition to the office-room desk, see if you can find a nook for a smaller, laptop desk somewhere in the kitchen or living room.

In the master bathroom, make sure there are at least two towel rails - one for each mate. You get bonus points if you've got two sinks! If there is a second bathroom, make it guest and kid-friendly (but no training potty or bath toys everywhere!). Place a guest towel set and 'hotel size' sundries in there. Make it smell nice with pot-pourri.

In the kitchen, show off an espresso machine, knife set and modern lifestyle gadgets. Some fresh flowers wouldn't hurt either. Take everything else off the counters!

In short: the home buyer for this type of Richmond condo is going to want room for growth, or room for aging. They also want a comfortable lifestyle. They don't want to see themselves 'squeezed' into a space that's too small for them, even if it's not. So showing spaciousness with clever organization and layouts will be key.
When staging 3-bedroom townhomes in Richmond, functionality and 'family' elements are key
For the Richmond home seller looking to sell a townhouse with 3 or more bedrooms, the style of staging really begins to change. You will be looking to attract home buyers with children. These families not only have their own stuff, but they have more of it. They are busy. But despite their busy schedules, it's possible they're ok doing some of their own renovations. You'll still get a better price by doing the renos before selling, though.

The living areas for this type of home buyer will be used for many purposes. You'll need to demonstrate lots of seating, and lots of storage for games and books. Homework nooks and an easy-to-navigate kitchen are not just desired, but needed for this group. Parents need a retreat, and kids need their creative space in the bedrooms.

To stage a Richmond townhouse for sale, here are some ideas:
Remove bulky furniture or storage that looks like it was an afterthought. If you have mismatched shelving next to plastic bins full of junk, it will seem like there isn't enough space for a typical family in this townhouse. Those will have to go. It's time to purge.

Use mid-century modern staging furniture, if you can. This style is not too cold, while still being up-to-date. More importantly, it gives the appearance of a 'lighter,' more spacious atmosphere.

Use multi-functional furniture to stage a townhouse for families. A simple example would be a coffee table with storage for books underneath its surface. Or, a dining table with leafs for bigger gatherings.

The living room should be kid-friendly. Find a good spot for a kid's table and some toys (in a nice toy box!). Put colouring materials or games out, in case the kids join in on the house showing. This will keep them occupied during the boring, 'adult' conversations about real estate.

If you used large furniture in common areas to 'block' little kids in a makeshift cage, you'll need to change that. The living room layout should look presentable, and livable. Keep the seats facing each other in a communal layout. Don't have the backs of couches blocking fireplaces or patio doors.

Don't use expensive-looking knick knacks when staging for families in Richmond. Remember, kids can break things. So no tipsy vases or glass candleholders.

Remove all your own family photos and religious items. The wall art that stays should spell out that this is a family home. Like the advice about not using breakable things to decorate, don't use expensive-looking, or 'far out' art on the walls either.

Make sure the kitchen is bright and inviting. You don't want a dark, moody schematic in a room like this. The 'dark' look may show style, but it's not family-friendly. Going with white is a safe bet. But, if you have the help of a designer, you can incorporate other inviting colours and textures too.

Upgrade the appliances. This is important - families need convenience. So big fridges, dishwashers, ovens and laundry machines too. These should be eco-friendly and energy efficient, since families are going to use them a lot.

The kitchen can show that there is space for handy appliances, without crowding the counter. You can also organize the kitchen so that things like the Instant Pot are easily accessible from a pull-out drawer.

The pantry and cupboards should not look like you've stuffed your junk in them as an excuse to 'clean up.' Decluttering in these 'hidden' spaces is important, too. The families will be opening doors and drawers, to see how much space they'll have. The more space-saving organizers you use, the better.

If the kitchen cupboards are old and worn on the inside, line them with Con-Tact paper. This will make them look clean and new.

Somewhere in the kitchen, showcase a nice-looking calendar. Or set up a creative, clean way to write family notes. For example, a framed chalkboard, or a hanging paper roll (they're popular with DIY-ers and on Etsy these days, like this one). Show that the family can live their busy lives, with their busy schedules, in this home.

The dining table should be large, or expandable (as noted above). Use kid-friendly table settings - nothing too fancy or trendy, even for the adults.

The kids' bedrooms should have appropriate-sized furniture in them. If the room is small, but contains a large bed, it will look too tight. The secondary bedrooms should each have a single bed, set against the wall, and a dresser. Also stage these rooms with a small laptop-sized desk, unless it makes the remaining walkway too narrow. Display toys and clothing with organizers. Let the parents imagine how easy it will be to live in this home, while making the kids feel like it will be their dream bedroom.

While you should show that kids' rooms can be kids' rooms, they shouldn't be painted in bright, preference-based colours. That means, no pink or orange walls. And no cartoon wallpaper. Kids like their own colours, so they won't want to feel like they're settling for some other kid's room (moving is hard enough!). Painting the entire home a neutral, bright colour is advised.

In the bathroom, show a stool for the kids to reach the sink, as well as accessible towels. If there is only one bathroom, set it up so the family can imagine sharing it. That means efficient use of space. Try high shelving or towel rails, for instance, without crowding the wall.

If there is a yard, use a patio set. For the kids, put out a sandbox or swing set (secured safely). Remove anything that might be dangerous for kids (like gardening tools). And, it goes without saying the yard should be mowed, with weeds or overgrowth removed.

If there is a garage, clean it up. It may be stacked with your forgotten camping gear right now. But it's time to head to the hardware store for garage organizers and bins. Absolutely no mess allowed in here. A messy garage can create fears of infestation, too.

If you have a pet, take out their bed and bowls, and replace them with new, nice ones from a store like Homesense. You shouldn't have a pet-bed in the hallway, nor food bowls hidden behind a table. Make it seem like the pet is part of the family, but not in the way.

In short: when selling Richmond homes to families, you are staging for practicality, not for style. These spaces need to be kid-friendly, kid-safe and parent-happy.
Conclusion: selling your home in Richmond goes best with the right kind of staging
When you stage your home for sale in the Richmond housing market, knowing your audience is key. While it's always possible the above-scenarios may not apply to your actual buyers, these are certainly the most typical 'rules' to go by. For example, it may very well be that a single person will buy a two-bedroom condo. Or retirees might buy your townhouse.

So you won't want to go overboard in any scenario. This is why we also mentioned using the white bedding and neutral paint colours. You want to cater to the most likely buyer, while not completely isolating other types of buyers. This goes especially with regards to extreme taste in style.

The rules can also be 'broken,' of course! If your home is older, it may just be that a real estate agent will recommend a traditional look for home staging. That's why it's best to work with a professional, who can evaluate your specific case.
Selling Your Home?
Get your home's value - our custom reports include accurate and up to date information.
Get Home Value